Paul Wellman, an everyman golf historian and member of the Historic Ottawa Beach Society, is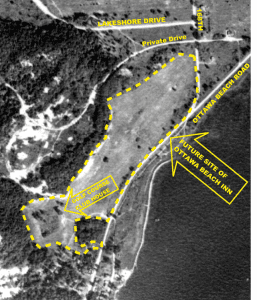 researching the defunct 9-hole Ottawa Beach Golf/Country Club, now the Holland State Park
Lake Macatawa Campground.
The golf course was built in 1903 and served the Ottawa Beach Resort guest. Circa 1915, the
Ottawa Beach Country Club was established with plans to lease the golf course property.
Through the 1920s and 30s, the golf course served local and vacationing golfers. Martin
Michielson purchased the property in 1942, built a small resort, and converted the clubhouse
into their family residence. In 1964, the State of Michigan began acquiring the property to
expand the Holland State Park.
Paul is looking for any information, publications, or artifacts associated with the golf course.
Please feel free to email him at ottawabeachgolf@gmail.com. He will provide his research to
the Historic Ottawa Beach Society.