The Pump House Museum and Learning Center announces a Live Speaker program to be held in the Museum at 7:00pm on Monday, August 16, 2021
Michigan Places in the Negro Motorist Green Book Presented by M. Christine Byron
The "Green Book" as it was commonly called, was a travel guide for African American motorists listing places where African Americans were welcome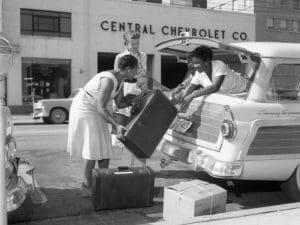 customers, so they could "vacation without aggravation."
Christine Byron will give an overview of the history of the Green Book, started by Victor Green, and focus on places in Michigan that were listed in the travel guide from 1938 through 1966/67.
Some places, like Idlewild and Detroit, were well-known for their African American communities and had multiple listings. Other places, like Bitely, and Paw Paw, had only a few listings. Some surprises like Bay Shore were fascinating discoveries.
As a historian of Michigan tourism, Byron will take you on a journey back to a time when Black travelers were advised to "carry your Green Book with you … you may need it." Christine Byron retired from her position as the Local Historical Collections librarian for the Grand Rapids Public Library. She is an avid reader of Michigan history and has collected old Michigan travel and tourist memorabilia for over twenty-five years.
She and her husband, Tom Wilson, have co-authored five award-winning books in their "Vintage Views" series on the history of Michigan tourism. "Historic Leelanau" is their sixth book. Christine & Tom operate a business creating prints from old Michigan and Great Lakes tourist and travel ephemera.
Facebook Event Page: https://www.facebook.com/events/861067461166898