The history of settlement at Ottawa Beach began shortly after Michigan was established as a state in 1837.
Following the American Civil War (1861 – 1865) the beneficial effects of the industrial revolution , advances in science, medicine, transportation and technology combined to enable Americans to live longer healthier lives. People had time for leisure, recreation and travel. The railroads were in the midst of a period of unprecedented growth and expansion. Besides connecting small and large cities together and providing a cheap fast way to bring goods to market, the railroads would create destinations and attractions to encourage the leisurely middle class to travel. This is exactly how Ottawa Beach came into being.
Located five miles west of Holland Michigan, Ottawa Beach is bound by Lake Macatawa (Black Lake), Lake Michigan, and Mt. Pisgah. This resort community was platted and development began in 1886. Ottawa Beach is a unique combination of forested dunes, Lake Macatawa shorelines and fine sand beaches. Victorian cottages shelter a vibrant community where residents and visitors can relax with friends or explore the walks, dunes and waterways. This page contains information about the local history beginning with the settlement long before the Dutch arrived, to the development of the community in the 19th century, and its evolution into the 20th century.
Much of the history presented here comes from the book Ottawa Beach and Waukazoo: A History by Donald van Reken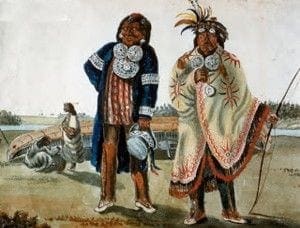 EARLY SETTLEMENT
The people who initially enjoyed Ottawa beach were the members of the Ottawa, Chippewa and Pottawatomi tribes. In 1821, their chiefs ceded the land south of the Grand River to the US government thereby opening the land to non-Native American settlers. The land was surveyed in 1832 by government surveyor Calvin Brittan, who was sufficiently impressed with the Lake Macatawa area to purchase the beach front lands later developed as the Macatawa and Ottawa Beach cottage and resort areas. LEARN MORE
HOTEL OTTAWA
The West Michigan Park Association built the Hotel Ottawa in June of 1886 at a cost of over $20,000 (about a half million dollars in today's value). This undated photo was probably taken on July 4, 1886 shortly after the Hotel Ottawa first opened. The two story hotel with 36 guest rooms was built atop a bluff facing Lake Macatawa, and Lake Michigan could clearly be seen to the west. Note the windmill visible at the right behind the hotel which supplied water for the hotel and the cottages. Half of the cost of building the hotel came from the sale of the cottage lots, with the rest of the money raised through the sale of bonds. Within a year of the opening of the new Hotel Ottawa, 20 summer cottages were built in the West Michigan Park Plat. The majority of the historic cottages standing today at Ottawa Beach were built between 1887 and 1900. All building materials – the lumber, bricks, window glass and furnishings – were transported to Ottawa Beach by boat from Holland until completion of the railway line. There were no roads from Holland to the lake shore and the only way of reaching the two resort hotels was by one of the two excursion steamers. LEARN MORE
OTTAWA BEACH INFRASTRUCTURE
The neighborhood had its own post office with the name Ottawa Beach beginning in August of 1886, two months after the Hotel Ottawa opened. For several years, mail was outgoing only. Hotel infrastructure also included a bath house on the Lake Michigan beach, a small train called "the Toonerville Trolley" to get there from beach to the hotel, a nine-hole golf course (on the site of the current State Park Lake Macatawa Unit), a bowling alley, a billiard hall and a casino. Apparently both the Macatawa and Ottawa Beach resort areas were both known as Macatawa in the early days before the hotels were built as part of their respective resorts. LEARN MORE
THE STEAMERS
Passenger and freight transportation by steamship to and from Holland, Macatawa Park and Ottawa Beach was very important in the era before good roads and affordable cars and trucks. LEARN MORE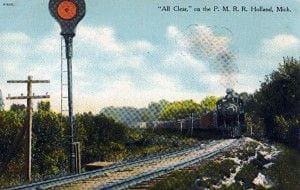 THE RAILROAD
By the end of the 1870's, the Chicago and West Michigan Railway had connected Holland with Grand Rapids so visitors could easily take a train out to Holland and catch one of several excursion steam boats out to either Ottawa Beach or to Macatawa Park for a pleasant day trip. LEARN MORE
THE LIFE-SAVING STATION
New Jersey Governor William Newell introduced a bill to create the Life-Saving Service in the early 1850's, and it was approved by the U.S. Congress in 1871. In addition to possible shipwrecks and shipping accidents in Holland, where the Life-Saving service was needed, fire was a constant concern for Ottawa Beach, as it was for all summer resorts where the wooden cottages were always tinder dry and where fire protection was minimal or non-existent. In August of 1899, the Life-Saving service came to the rescue when a firecracker started a fire under the flooring of the Hotel Ottawa Annex as described in "Ottawa Beach and Waukazoo, a History" by D. Van Reken. This photo shows the Holland Life-Saving station on the left and the lighthouse keeper's cottage on the right. They were situated on the south side of the channel. LEARN MORE
THE BEACH
The beach front property west of the Hotel Ottawa and extending north from the channel for about 1,300 feet was the bathing beach for the hotel and most of the cottage owners. The Chicago and West Michigan Railway owned this desirable chunk of land and it built and maintained this bath house there on the Lake Michigan shore probably until the state purchased the property and developed Holland State Park there. LEARN MORE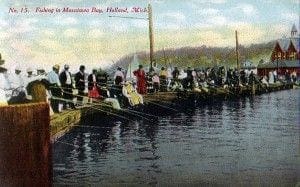 LOCAL FISHING
Sport fishing at Holland largely began with the development of the resorts on Black Lake in the late nineteenth century. Both vacationers and town folk used basic tackle to fish from the hotel docks or from row boats, seeking trout, bass, and perch. LEARN MORE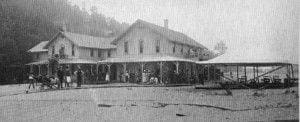 NEIGHBORING RESORTS
The plat for the Village of Superior was recorded in July 1832. This later became known as Waukazoo on the North side of Black Lake and Central Park on the south side. Macatawa Park on the south side of the channel was platted in 1881 entirely by a group from Holland with lots for summer cottages and plans for a temporary resort hotel facing Lake Macatawa. Construction of the Macatawa Park Hotel began on June 12th 1882, and by July 1st, the hotel was open for business. LEARN MORE
BOATING ON BLACK LAKE
In 1895, the Grand Rapids Yacht Club was started in a Lake Macatawa boat house shared by Ottawa Beach residents James Bayne and Addison Barber. There was a long row of wooden boat houses built by cottagers on the Lake Macatawa lake shore adjacent to the Hotel Ottawa. This view looking north east shows the Hotel Ottawa boat livery in the foreground. LEARN MORE
EARLY RESIDENTS
The young boy at the right in this 1920's photo is Robert Work, who held onto his original 1886 property certificate from the West Michigan Park Association. This 1920's photo shows him with his brothers and sisters in front of the Work family cottage on Terrace Avenue, the upper boardwalk. The coaster wagon was not just a child's toy; it was a common means of hauling household items from the automobile parking lot to the cottages. The big oak tree still comes up in the middle of the boardwalk to shade the Work family cottage. LEARN MORE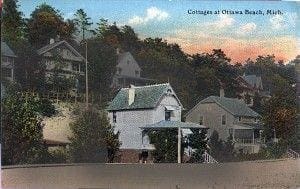 GERALD FORD FAMILY
Future United State President Gerald R. Ford's mother and father, Gerald Ford Sr., who adopted and renamed him, owned the cottage on lot lots 132-133 which had been built by Adison Barber in 1899. At the beginning of World War II, the Fords sold the cottage, but purchased lots 127-129 which sat vacant after a fire had destroyed an earlier cottage. LEARN MORE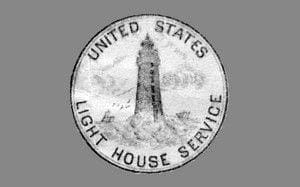 THE LIGHTHOUSE
Following a heated partisan debate in the 1st Congress in the late summer of 1789, Bill number nine transferred the ownership of ten lighthouses from private hands to the Federal Government. (George Washington was just a couple of months into his first term as the first President of these 13 United States!) The Bill also allocated funds for the construction of new lighthouses along the Atlantic coastline. The importance of good aids to navigation—and the naval power associated with them—was clear to the Congress and the rest of the country. LEARN MORE