In the fall of 2017, the Historic Ottawa Beach Society received a rare artifact: the only known guest register from the Hotel Ottawa.
This large volume covers the years 1893 through August of 1895 when the Hotel Ottawa consisted of the original hotel built in 1886 and the annex, built a few years later.
Our exhibits designer Valerie van Heest photographed all of the pages in the guest register. Then a duplicate copy of the register for museum guests to examine.
The register along with artifacts found at the hotel site and colorful picture post cards have been placed in a large antique glass display case in the Museum's south gallery. An interpretive panel gives information about the hotel along with observations about the guest entries in the register. A unique rattan chair from the hotel is suspended above the exhibit.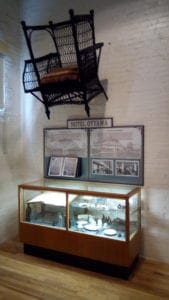 There is renewed interest in the Hotel Ottawa, partly due to author Lynn Austin's historical novel, "Waves of Mercy" which is set in and around the hotel in around the turn of the 20th century. The Pump House Museum and Learning Center is located about 700 feet east of the site of the Hotel Ottawa Complex.