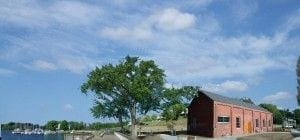 The Historic Ottawa Beach Society (HOBS), a 501 (c) 3 nonprofit corporation, is moving forward with plans to convert the historic Pump House into the Pump House Museum and Learning Center.
The Pump House is the last remaining building of the once magnificent Ottawa Beach Hotel complex owned by the Pere Marquette Railway. Erected in 1901 as an Edison Electric Power Plant, the building generated electricity with a boiler and two steam-powered dynamos to provide lighting for the hotel and grounds which had been expanded and improved that year. Additionally, neighborhood cottage owners were able to purchase power from the hotel. The electric lighting plant remained in service as built until 1915 when the Muskegon Power Company brought power to Ottawa Beach. At that time, the boiler was removed from the building and a water pump was relocated inside the building to supply water for the hotel. After the hotel burned in 1923, Consumers Power and later the Service Machine Company used the building to supply water for the cottages using pumps and a large water storage tank; thus the building became known as the "pump house." The building remained operational until 1988 when Holland municipal water came to Ottawa Beach. Soon thereafter, the building came under the ownership of Ottawa County.
In 2008, HOBS began discussions with the Ottawa County Parks & Recreation (OCPR) to convert the pump house into a museum. Over the next several years, the two groups developed conceptual plans for the museum to preserve area history, present educational programs and enrich the Ottawa Beach experience for residents and visitors alike.
The Pump House Museum effort is broken up into several phases.
Phase 1 stabilized the building, accomplished repairs, and completed some interior work through joint funding by HOBS and OCPR. A building rededication was held in May 2015 which debuted a display of large-scale postcards from the era of the Ottawa Beach Hotel.
In 2016, HOBS added two exhibits, one a temporary exhibit called "Icebound: The Ordeal of the SS Michigan," and the other, an interpretive sign about the Deming water pump on display in the building, and another sign explaining the history of the water supply at Ottawa Beach. The building has been opened to the public since 2015 for scheduled open houses and special events.
Phase 2, which will include additional interior electricity, a wood floor and restrooms is planned for completion in 2016 and 2017.
Phase 3 will complete the conversion to a full-fledged museum. Support from the public will be needed for this phase.