The Pump House Museum and Learning Center is open for regular hours during the 2018 summer season.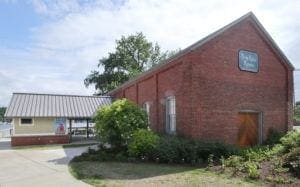 HOURS
Tuesday-Wednesday-Thursday: 1 p.m. – 5 p.m.
Saturday-Sunday: 1 p.m. – 5 p.m.
ADMISSION
VISIT THE GIFT SHOP TOO
Historical museums make a significant contribution to the cultural and educational life of their communities. They are the treasure houses of material, culture, oral histories and images that reflect the human experience; they preserve their community's and the nation's heritage and tell stories of common and not-so-common men and women. This new museum is poised to do all those things. With the goals of education, preservation, and collaboration with existing institutions, the museum will feature exhibits, activities, and educational programs to stimulate and challenge the imagination by sharing history, memories, and stories that have made the area special for more than a century.

The Pump House is the last surviving structure of the splendid Hotel Ottawa Complex. It was built in 1901 as an Edison
Electric Power Plant to provide lighting for the hotel and grounds. After the hotel burned in 1923, an existing pump was relocated to the building to provide water to the cottages at Ottawa Beach. Thereafter the building became known as the Pump House. In the 1980s public water came to Ottawa Beach, and the building was no longer needed. Over the ensuing decades it fell into disrepair.
In the early 2010s Ottawa County Parks and Recreation Department, which now owns the building, began a partnership with the Historic Ottawa Beach Society to renovate the building for use as a museum. The work was completed in stages with the public invited in to see the society's first exhibition, "Icebound Found: The Ordeal of the SS Michigan in 2016," along with several related public events. The next year, the building received a new wooden floor and other upgrades. By 2018, Ottawa County completed a public toilet addition and HOBS installed air conditioning, window treatments, a reception desk, a gift shop, and a security system. In June 2018 HOBS debuted its first major exhibition, "BIG RED: Navigational Aid to Cultural Icon," and is now opening twenty hours per week.
The museum is now an important central feature of the Historic Ottawa Beach Park's "Black Lake Boardwalk" that links the Mt. Pisgah Dune Stairs, to the Holland Harbor Fishing access, to the Lake Michigan Beach, accessible through the Holland State Park.The location has a tremendous base of visitors to the museum. Holland State Park drew over 1.9 million visitors in 2011. The Pump House Museum is a prime cultural attraction among all the natural attractions in the area.