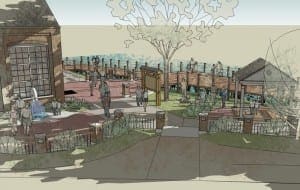 In April 2011, Cornerstone Architects of Grand Rapids, working with RJM Landscape Design, Ottawa County Parks and Recreation and the Historic Ottawa Beach Society, created conceptual designs and project costs for converting the historic pump house building into a museum.
Under this plan, the exterior will be treated simply to maintain the utilitarian appearance of the original building and will retain the historic window configurations. Along the south wall of the pump house, a new pair of large doors will be added to visually open up the building to the lake.  An addition on the east side of the building will serve as a connector between the original pump house building and the functional spaces to be housed in the addition. This addition will serve as the primary entrance lobby, open from both the street and lake sides, and will house the ticket counter, a gift store, an office, and restroom facilities that will be assessable from the outside for use by the public.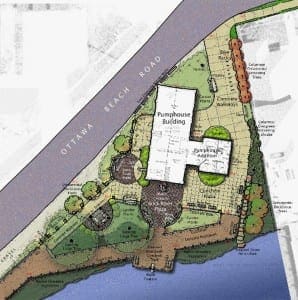 The addition will also serve as a staging area or extension of outdoor activities. A separate entrance will provide access to the restrooms when the museum is closed.
Concrete walkways, the Black Lake Boardwalk, and lush plantings will surround the museum. A gazebo and bench seating will provide places to rest and enjoy the view. Exterior exhibit displays will provide a brief history of Historic Ottawa Beach and offer tantalizing historical tid-bits that can be further explored in the museum.
The plaza will be the site of public gatherings and special events organized by the museum.