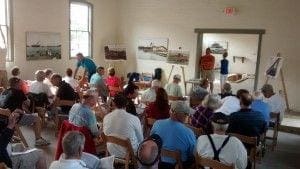 The Pump House Museum effort has been broken up into several phases due to budget constraints.
Phase 1 which stabilized the building and accomplished exterior repairs along with some interior work has been completed with funding provided by the Historic Ottawa Beach Society (HOBS) and Ottawa County Parks and Recreation (OCPR).
Phase 2 consists of two major projects:
A. Hardwood flooring installation will be completed in late 2016. The flooring project will include an area of brick flooring around the Deming pump, and a plexiglass floor over the floor trench to show the water pipe connections to the pump and finally underfloor wiring and outlets for electricity and audiovisual connections. A majority of funding for this phase portion has been provided by a grant from Park Township along with funds from Ottawa County Parks and Recreation (OCPR).
B. Restroom facilities will be installed and completed in 2017. Funding will be provided
by the Ottawa County Parks and Recreation Commission.
Phase 3 will complete the conversion to a full-fledged museum. Support from the public is needed to accomplish the following:
Architectural additions, including entrance and reception area, gift shop, mezzanine, installation of heating, ventilating and cooling equipment, upgraded lighting, window treatments, and telecommunications and audio visual equipment. Estimated costs for this would be $500,000.
Creation of exhibits, including research, design, fabrication, and installation. Estimated cost for this would be $150,000 for the initial round of exhibits.
Staffing to allow for regular hours of operation, development of public programming, exhibit maintenance and development. Estimated operating costs still need to be finalized."