2014 update:  Click here to read the latest exciting news about  the Pumphouse Museum and Learning Center.
2014 Official Historic Ottawa Beach T Shirt now available. Click here for more information.
From its inception in 1987, a group of concerned Ottawa Beach residents gathered together with Willard Wichers as mentor and formed the Ottawa Beach Historic Committee to collect, record, and preserve the history of Ottawa Beach.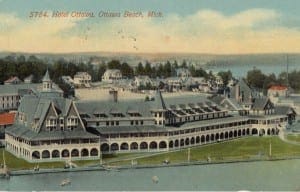 Ottawa Beach is an premier example of the summer cottage resorts that developed along the Lake Michigan shore during the late nineteenth century. In 1885, the West Lake Michigan Park Association was organized to purchase eighty acres of land in Holland, Michigan, located between the north shore of Black Lake (now Lake Macatawa) and Lake Michigan. In May 1886, Ottawa County Surveyor Albert Peck platted the resort with 150 cottage lots, streets, and a lot for a hotel. He designated the majority of the land as park area owned in common by cottagers, with each residential lots abutting one of the parks. The Hotel Ottawa, built immediately by the Chicago and West Michigan Railroad (later the Pere Marquette Railway), was one of the largest resort hotels on the eastern shore of Lake Michigan. Some guests arrived by train: many more by steamship from Chicago. The hotel burned in 1923.
The work of the Historic Ottawa Beach Committee Ottawa Beach's designation as a National Register Historic Site in 1995 and a Michigan Historical Site in 2002. Ottawa County Parks and Recreation named the area Historic Ottawa Beach Parks in 2009.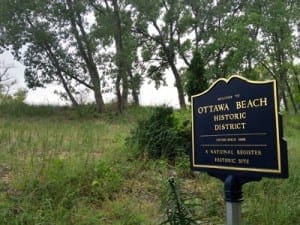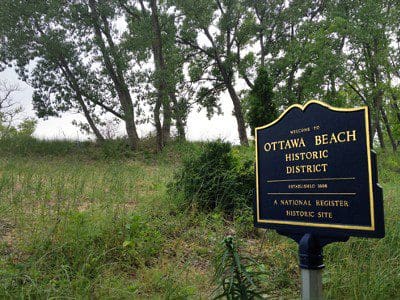 In 2010, the committee incorporated as a 501c3 non-profit, renamed Historic Ottawa Beach Society, to foster cultural and environmental stewardship of Michigan's historic Ottawa Beach and environs by preserving and interpreting its wonders, memories, and stories.
With the support of Ottawa County Parks and Recreation Department, the Society's first major project is to establish a working museum to preserve area history, present educational programs , promote good stewardship practices, challenge the imagination, network with other institutions, and enrich the Ottawa Beach and West Michigan experience for residents and visitors alike.  NEXT